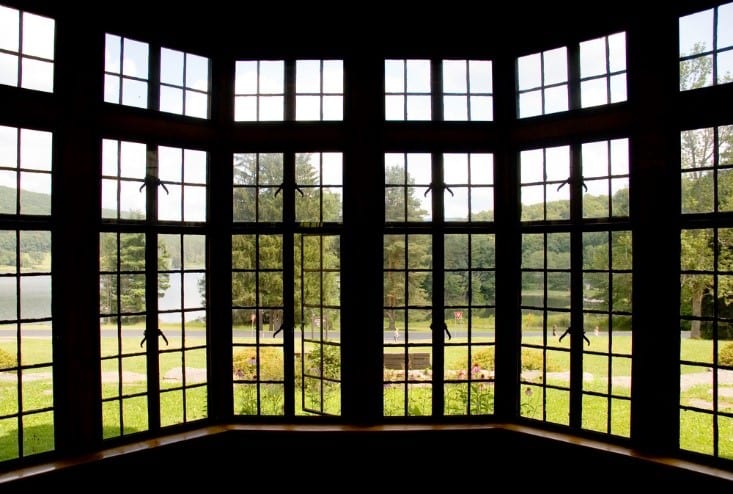 7 Beautiful Bay Window Ideas for Your Home
Here at Twin Brook Construction, we proudly install Marvin Windows because of their many advantages in both new installation and window replacement scenarios. And, one of the biggest selling points of Marvin products—windows, as well as doors—is their extreme versatility in style. Whether you're looking for small accent windows to highlight an architectural feature or large picture windows to frame a gorgeous view outside your home, Marvin has a high-quality and durable option for you.
Today's blog post is here to offer up some great ideas specifically for bay windows, which are large, full-view windows that can enhance nearly any room in your home.
Bay Window Ideas for Kitchens
Remodeling your kitchen is one of the best investments you can make in your home. After all, the kitchen can probably be considered the "heart" of most homes today—it's just where families like to hang out and visiting friends tend to congregate. With that in mind, lightening up your kitchen by adding one or more bay windows to different areas can make your space that much more inviting.
Two of our favorite placements for bay windows in kitchens make for dramatic improvements, often without totally overhauling the space.
Create a Breakfast Nook
Whether you want to build in banquette seating or leave room for a full table and chairs, bay windows are perfect for creating a casual mealtime retreat right in your kitchen. For full effect, we recommend designing the placement of your breakfast nook so that the bay window faces the rising sun in the East. However, any calming view will invite you to linger over your morning meal while gazing out of your breakfast nook bay window.
Give Your Kitchen Sink a View
While many homeowners today embrace the dishwasher, let's face it—sometimes, you need to hand wash a load of dishes in the kitchen sink. And, who wants to do that while staring at a blank wall?
Especially if you have a lovely backyard or street view from your kitchen, a bay window—or even a bank of casement windows—above the sink may make you forget all about your dishwasher!
Bay Window Ideas for Living Rooms and Dens
Bow and bay windows are traditionally installed in living rooms, dens, and formal dining rooms—and for a good reason. These relaxing spaces can be made even more comfortable with a beautiful view.
Frame Your View of the Street Outside
The right bay windows can both add curb appeal to the exterior of your home and provide an ideal way to see the outside world from the comfort of the indoors. If you live along a bustling street—or even if your home is situated on a sleepy suburban cul-de-sac—having a front-row seat to the action beyond your front door can be quite entertaining.
Make a Cozy Spot to Relax
Bay windows offer an excellent opportunity to create a quiet reading nook. Add comfy cushions to your window seat, and you'll create a favorite place for both humans and furry family members alike!
Bay Window Ideas for the Home Office
It's true that many professionals have had to rethink the home office recently, and you may have found yourself wanting to improve your in-home workspaces. If you also have kids doing virtual schooling, you know how difficult it can be to carve out space for everyone. This is where adding bay windows in different locations throughout your home may help alleviate some of the working-from-home stress.
Create a Reading Area Away from Your Desk
If you're lucky, not all of your daily work forces you to be tied to a desk. Even if you need to be working on a laptop or other screen, a reading nook away from your desk can help you gain a fresh perspective with a healthy change of scenery.
Deck out some space around your bay window in or near your home office with pillows and privacy shades, and you'll have a perfect non-desk place to work!
Invite an Inspiring View Into Your Workspace
In the same way that creating a separate reading area in your workspace can help refresh your mind, placing your desk in front of a big, gorgeous window view can be excellent for productivity. If you're designing a new home office, don't scrimp on the views—design your space with a beautiful bay window as a focal point.
Bay Window Ideas for the Bedroom
We don't often think of the bedroom as a location for a bay window since we typically want to create privacy in the place where we sleep. However, if you live in a less populated area where neighbors' sightlines are not a concern, a bay window in your bedroom could help you rise with the sun and be inspired by a lovely view each day.
If you're thinking about renovating your master suite or other bedrooms in your home, definitely don't forget to consider your window views!
Ready to Upgrade the Windows in Your Southeastern PA Home?
Twin Brook Construction is the only name you need to know for window installation and window replacement. Instead of casually searching "window replacement near me" and calling a variety of different window companies, you can get a better quality result—and friendlier remodeling experience—by working with us from the start.
Get in touch with the window replacement and total home improvement experts at Twin Brook Construction today to discuss your next project.