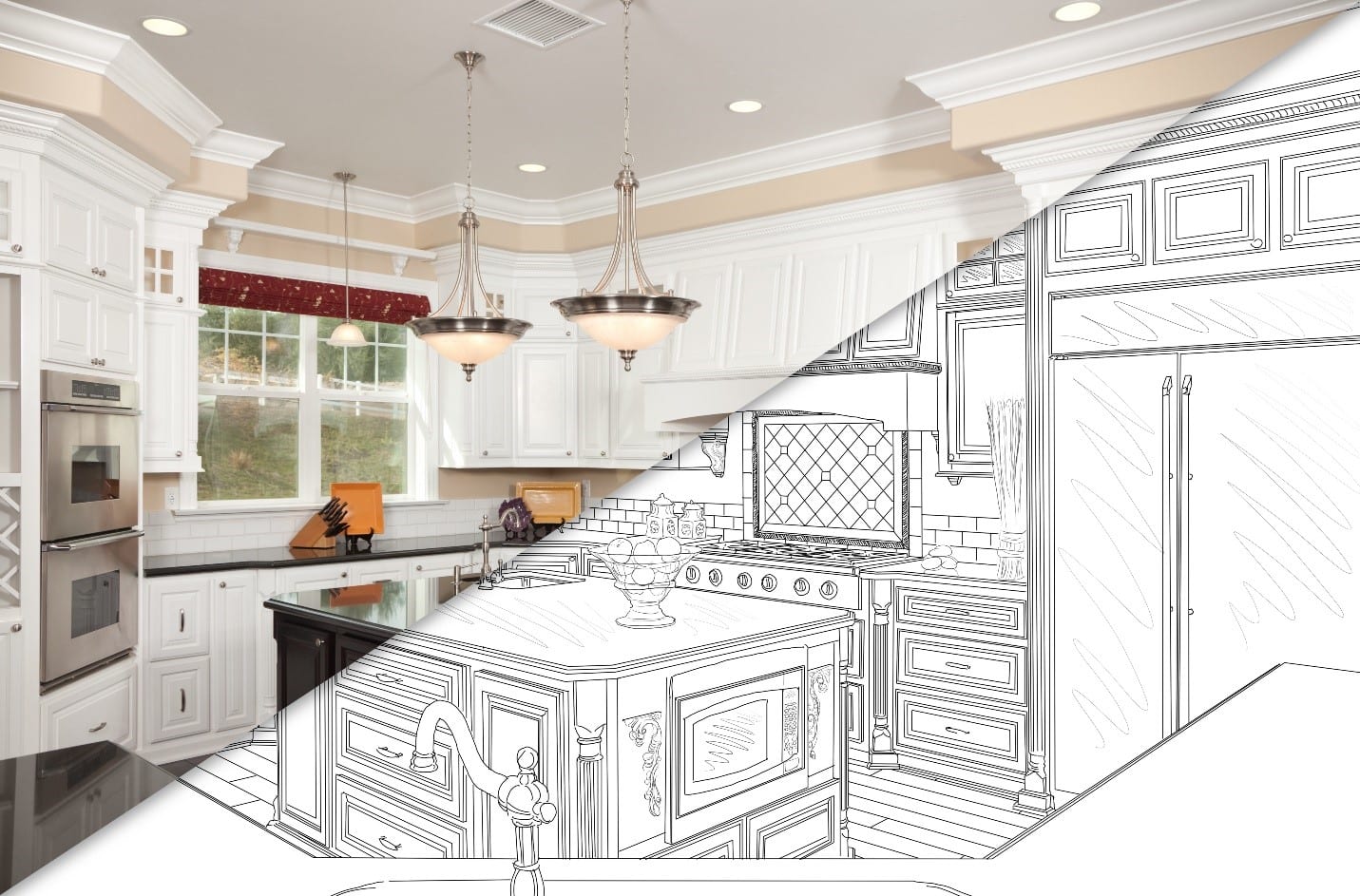 A Guide to Understanding Timelines for Your Kitchen Remodel
Here at Twin Brook Construction, we often hear from homeowners eager to squeeze their kitchen remodel into a too-tight window of time to meet a hard deadline. For instance, they're hosting Thanksgiving in just a few weeks and want a kitchen that wows invited friends and family.
As an honest, reliable full-service remodeling contractor, our goal is always to delight our valued clients, but sometimes this comes with a bit of hard truth some people may not want to hear. Remodeling a kitchen—the right way—is a process that can't be rushed.
Even if you are only updating some features and not going in for a complete overhaul of your kitchen, there are so many aspects of hard work and craftsmanship we put into your project that require great care. It's simply unwise to attempt the "let's try to fit it in before…" approach.
Today's post offers some insight into what you can expect when you begin a kitchen remodel in your home. We'll walk you through the basic steps of a total kitchen redo project, noting average times for the different phases of work in planning, design, and construction. And we'll also call out a few items that tend to add time (and cost) to a kitchen renovation.
How long does it take to remodel a kitchen?
As with most things in life, you're probably not surprised to learn that this question doesn't have an easy, one-size-fits-all answer. The physical dimensions of your kitchen and how extensive your remodeling plan is will undoubtedly affect how long it takes to complete the project.
For instance, putting up new cabinetry in a small galley-style kitchen naturally takes less time than more extensive projects. However, tearing an eat-in chef's kitchen down to the studs and changing everything from the layout to the amenities can take many months.
According to industry experts (and our own experience with our valued Philly Mainline customers), the average time to complete a kitchen renovation tends to be about 6-12 weeks. Of course, don't be surprised if your full kitchen remodel—with changes to electrical and plumbing, layout alterations, and all new appliances and finishes—takes five or six months to complete. And remember—you may not have a kitchen in your home for that entire period.
Typical Kitchen Remodeling Timeline
So, what happens during those weeks or months of construction in your kitchen? These are the steps in a complete remodeling scenario. Smaller kitchen upgrade projects may not require every single step, or timelines for some steps may take a single workday instead of weeks. The best way to learn how long your unique project will take is to consult with an experienced remodeling expert.
Step 0: Designing Your Kitchen
In many ways, this "pre-step" during any kitchen remodeling process is the most important. Approaching your kitchen remodel with even a basic design roadmap is an excellent first step. These ideas will ensure that you end up with a new kitchen you love instead of having to make mid-project compromises you hadn't anticipated—and ultimately being disappointed.
You can undertake your kitchen design yourself, but if you're not a particularly visual person or don't know exactly what you're looking for, we suggest collaborating with an expert. A professional kitchen designer can be worth the added cost to your project.
Of course, when you work with us here at Twin Brook Construction, we will assist you with your design and carefully plan before we so much as hammer a nail. We've been renovating kitchens—and so much more—for many years, and we know how to approach design and planning to get excellent kitchen remodeling results for discerning homeowners.
Here's what you'll need to determine in the kitchen renovation design phase that will promote a smooth-running project that may just finish up on time (or even a little ahead of schedule). Plan to dedicate at least two weeks to kitchen design when you're undertaking a complete renovation project.
1. Your Needs
Consider how you use your kitchen now. Do you love to cook delicious meals for your large family every day? Or is it just you and your spouse ordering takeout?
Are you looking to significantly increase your home's value and add kitchen upgrades that buyers are looking for because you're planning to sell soon?
These big questions, as well as ones about your personal style preferences and more, are things you'll want to have answers to before you begin your project.
2. Your Budget
It's true that in 2019, kitchen remodeling across the United States costs about $150 per square foot. Data collected by Home Advisor suggests that a full kitchen renovation and redesign costs almost $24,000 on average, while smaller upgrades typically come in between $10,000 and $15,000. Outfitting your home with a totally new kitchen may be one of the most expensive remodeling projects you can undertake, but real estate experts tend to agree that these renovations—along with bathroom redo projects—are the best you can do for resale value.
3. What Kitchen Features Will Stay, If Any
If your kitchen remodel budget is on the smaller side, you can save money by reusing your current appliances or cabinets in your design. For instance, if your existing kitchen has custom all-wood cabinets that just happen to be a little tired looking or outdated, you might consider having them restyled with new paint, hardware, or rearrangement within your space instead of totally replacing them with new cabinetry.
4. How Many Cooks in Your Kitchen?
The pros at This Old House suggest really thinking about how many people tend to be working in your kitchen at one time. Are you the only cook? Or do you have kids and grandkids who like to help out? Maybe you need a kitchen that can accommodate catering staff if you regularly host large dinners for many guests. Each person in your kitchen will need space to maneuver and work without anyone tripping over anyone else or competing for resources like the stove, oven, or sink!
Step 1: Demolition of the Existing Kitchen
Removing your existing kitchen won't take your remodeling contractor very long—perhaps just a few days—especially if every single feature, fixture, and appliance is being replaced, and no one has to worry about preserving cabinets or countertops, etc. This work is dirty and noisy, though, and you will likely be hosting an unsightly dumpster on your property for a while.
Step 2: Structural Changes + New Power, Water & Mechanical Rough-in
The rough construction phase in kitchen remodeling involves making any changes to your previous layout, which could include building new walls, installing new windows and doors, constructing islands or bars, and more. During this crucial project period—which might take between two and five weeks—plumbing, electrical, and other mechanical contractors will come in to make necessary alterations to accommodate new features and appliances.
Step 3: Drywall, Paint, & Flooring
Also considered part of the rough construction phase, is putting in your kitchen's walls and flooring surfaces. The walls and flooring are the final installation items before moving onto the "finish construction" phase, which homeowners generally find to be the most appealing part of remodeling. Installing drywall, painting, and laying floors luckily doesn't take long—usually under two weeks—before the real fun begins.
Step 4: Cabinets & Countertops
Once cabinets have been measured and constructed (which can take up to several months, as we'll discuss in a moment), installation is relatively quick—only about 3-5 days are needed for getting cabinetry in place. Countertop installation takes longer, however. This is because counters need to be accurately cut to accommodate things like your sink and certain appliances. Sometimes this takes some fabrication—both on and offsite—to get right. You may need to patiently wait for a few weeks for counters to all be in place and properly sealed, as required.
Step 5: Installing Fixtures, Hardware, Appliances
Assuming that you're reusing appliances you already have, or that your brand new appliances have all arrived from the supply source, installation is quick. Simultaneously, items like cabinet handles, drawer pulls, and lighting fixtures will also go in—likely in under a week.
Step 6: Cleanup
The best kitchen remodeling contractors will ensure that your kitchen is spotless and ready for food prep within a few days after the last pendant light shade has been hung. Of course, excess materials being stored outside will also need to be hauled away, as well as dumpsters. Once this work is done, you can unpack and move into your new dream kitchen!
Kitchen Renovation Items That Add the Most Time to a Project
Anything that must be special ordered—and especially features that must be manufactured to order—can take weeks or months to arrive for installation. Unfortunately, your remodeling contractor may not have much control over these types of delays. You will want to place any orders of this nature as early as possible in the design phase of your project.
Custom Cabinets
All new custom cabinetry can really make your kitchen renovation one-of-a-kind. However, cabinets will need to be carefully measured and manufactured to your kitchen's unique specifications. This process can take many weeks, and if there are any production mistakes with your cabinets, this can quickly add time to the entire project.
Custom Countertops
Similar to custom cabinets, countertops made from unique materials that have to be specially sourced can cause project delays. Further, some countertop materials are challenging to work with and install. If material breakage or even a badly measured cut occurs, your project's finish construction phase could go into overtime.
Specialty Tiling
While tile backsplashes and flooring are not typically super tricky to install, there is a level of artistry involved with tilework that not all remodeling contractors may be able to achieve. Specialty tile professionals will likely need to be called in to ensure a flawless installation.
Mid-Project Design Changes
The most common remodeling item that adds time to a project, as well as cost, is what is known as "change orders." Sometimes, these simply cannot be avoided. For instance, a particular countertop material may be on backorder indefinitely, and you may decide on a substitution. However, avoidable change orders—like a sudden decision to change your flooring choice or reorder all your appliances—can wreak havoc on your previously established timeline and budget.
Ready to Begin Your Kitchen Renovation in Southeastern Pennsylvania?
Twin Brook Construction is here for homeowners in the Philadelphia region, ready to help you achieve the kitchen you've always dreamed of! Based in Gap, Lancaster County, we bring true Amish craftsmanship and quality work to your kitchen remodeling project or other home improvements.
Get in touch with us now to discuss your project details and discover how we can make your next kitchen remodel a success.